Winona Ryder Arrested For Stealing

Oscar-nominated actress Winona Ryder, who specializes in portraying troubled young women, was arrested for allegedly shoplifting $5,000 worth of clothing at the Saks Fifth Avenue store on Wilshire Boulevard in Beverly Hills, police said. The 30-year-old actress was charged with grand theft and possession of prescription drugs without a prescription and released on $20,000 bail, Beverly Hills police spokeswoman Stephanie Ochoa said.

Despite her supposed crime, Beverly Hills police described Ryder as "very friendly, polite, cooperative" and "a nice lady." Representatives for Ryder were declining to comment yesterday, pending a statement from the accused actress.

She is due to be arraigned on 11 January.

Why would Jackie Collins would want to claw?
Sources tell me, best selling novelist Jackie Collins has made the mistake of slamming Hollywood's sweetheart Julia Roberts.


Collins told an Australian newspaper that she believes the Oscar winner jumps from one relationship to the next without a second thought. Jackie says, "There's not really a pause between her men.
Shall we take a closer look? Heck! Why not!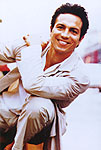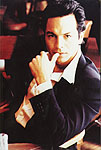 "You know every time she goes on location she's the queen of the set. Everybody will do everything she wants. How is one man going to live up to that? "And then she's always exposed to more and more attractive people, attractive men, and it almost become like a habit; she'll go on the next one.

"She's sort of like a female George Clooney… A playgirl!"
Now Hollywood (believe it or not) is shocked by Jackie's remarks, because it came so soon after Julia generously donated $2 million to victims of America's recent terrorist attacks. One producer says, "What was Jackie thinking? Whatever her sins of the past, right now, Julia is the film community's Mother Teresa.


Mother Teresa? Hello!!
Former Batman star Val Kilmer has found love with Hollywood actress Daryl Hannah

Kilmer and Splash star Hannah fell for each other while filming new movie In God We Trust sixth months ago. And they have been inseparable ever since. Val, 40, and his new girlfriend were recently spotted smooching on a bench in Santa Monica, California.

A passer-by says, "They were very passionate. Val had his hand under her blouse giving her a sensuous back rub."She looked radiant and deliriously happy."

You know Hollyweird… here one day, and gone the next!

Don't hold your breath on this one, Val knows how to love them and leave them. I'll keep you posted!

Charlie's Got the Hots for Heather

So... What else is new?

According to set insiders, Charlie Sheen loves working on Spin City - because he gets to perform alongside bbottttle blonde Heather Locklear.
The reformed bad boy finds the presence of the former Dynasty star one of the perks of working on the hit political comedy. He says, "Heather Locklear is as good as it gets. She's not threatened by me because she's like a big sister - a really hot big sister. "It's the best working environment I've ever encountered in my 18 years in the business."

Really?? I thought Charlie's escapades with high price hookers was the best environment he's ever encounter?

Charmed Star McGowan Was Homeless
Actress Rose McGowan has revealed that she lived on the streets as a teenager. The Scream star who will replace Shannon Doherty in the TV show Charmed, has spoken of her traumatic childhood. She says, "I'll bet I'm the only babe in an Spelling's show ever to be homeless" The 26-year-old actress was whisked to Italy with her parents as a child and raised in a commune by a religious cult. She ran away and was addicted to drugs and living on the streets by the age of 13. Rose is looking forward to playing a witch in the TV show. "I've never had a job that's lasted for more than two and a half months. It's very strange. If I think about it too much, it'd freak me out. I don't think I've ever been more tired. I've laughed, cried, been shot at by ghouls - and we're only on the first episode.
That goes to show you… even an ex homeless person can make it in Hollyweird.
Macy Gray Hopes Album Relieves Stresses
Gray admits it was a difficult decision to go-ahead and release her album The ID in the wake of the recent terrorist attacks.
The Id is a celebration of life's carnal pleasures, which Macy realizes is an odd thing to be singing about after the 11 September attacks on New York and Washington.
But Gray also feels that people need to hear such songs to relieve the stresses that the attacks and their aftermath have caused. She says, "I think The Id is a perfect album for where we are right now, 'cause it's up and it talks about, like, sad things. It talks about psychosis, talks about murder, talking' 'bout love, sex, but it's up.
"And it's a really, really dope escape, 'cause it's so off the wall, so over the top. It's a bit far from reality, the album. I think it's hot for right now."
Well, you know what the experts say, sex is a great stress release.
What I say… that depends on who you're having sex with!
It can turn out to be a dud!!
And speaking of divorce… who knows better than Elizabeth Taylor.
Wait! I am not here to rang on Liz and her army of failed marriages. I am here to report on how generous, and kind Ms. Taylor is.
The Legendary actress took time to pay a visit to the New York Armory, where the families and friends of those missing in the World Trade Center attack came to fill out forms in the desperate hope of finding their loved ones. izabeth was great, said a source. She offered comfort to those in pain, and held their hands, hugging them and shedding tears with them. The source said." Liz even gave a few people her personal phone number and said, 'If you need someone to talk to, don't hesitate to give me a call.'"
Handing over her phone number is not un-usual for Ms. Taylor… just ask her last husband Larry 'Fortensky, I think she gave him her phone number at a rehab clinic where she met him?
Flags, flags, and more flags!
Oh yeah! The bigger the better. Neighbors say Tom made certain he had the biggest flag in the neighborhood, said the source. Mr. Hanks proudly flies the Stars and Stripes from a flagpole outside hishome.
No word yet on how much money mega rich Hank donated to the cause?

JIM CARREY
pledged $1 million to help the victim's families of those killed or missing in the disasters in New York and at the Pentagon, saying he was making the donation "with my deepest sympathy for their unredeemable personal losses."
Speaking of personal losses… the funny guy seemed to be unlucky in love. According to sources, after his "Nurse Betty"
(Renée Zellweger) gave him the boot, Carrey is still trying to find love.
In all the wrong places?

While shopping at a local Malibu market
with her two beautiful sons, Pamela Anderson was insisting in getting a certain flavor of yogurt, but the kids kept screaming they already had that flavor at home in the fridge! It goes to show you who knows more about what is going on at home!